Fruitybasket Carrot Shampoo Bar Set
$13.00
Regular price
Unit price

/

per
Quantity selected exceeds current stock
Adding product to your cart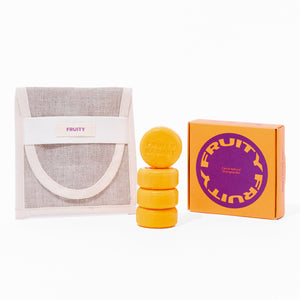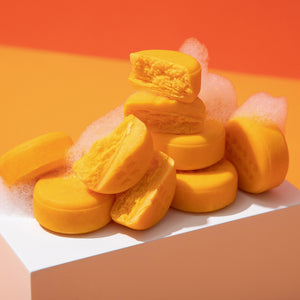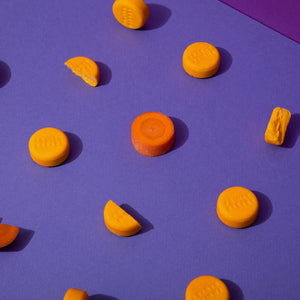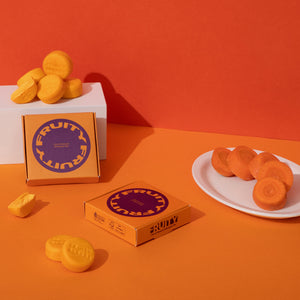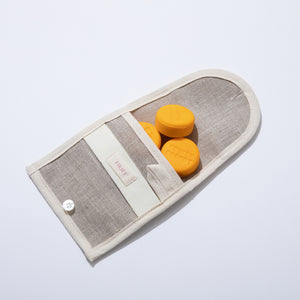 Description
BRAND
Frutibasket, a sustainable pet care brand for people, animals and the environment, offers a variety of choices for value consumption in your daily life. Let's protect the precious lives of you, me, and our friends so that there is no life sacrificed for the beauty of my pet.
PRODUCT DETAILS
Carrot Shampoo Bar Set
Sometimes a war during bathtime with your pet is unavoidable.
In one hand, you are trying to keep your pet from escaping while in the other hand you are trying to wash them with a slippery bottle or bar of soap.
Of course, it's hard, right?

You can now wash without worry.
The 'Carrot Shampoo Bar Set' means that you can conveniently wash your furry friend by simply using the carrot shampoo bars and the natural linen bath net that sticks to your hands.
#Korea #Carrot #Linen #Bathroom

The slightly acidic Carrot Natural Shampoo Bar keeps your pet's skin in a neutral condition.
It's hard for dogs without sweat glands to control their body temperature and pH Pets are often times more vulnerable to mold and germ propagation.
Dog skin can easily dry out or become weaker if appropriate products aren't used.
[Alkaline skin + slightly acidic cleanser = neutral skin condition]

EWG green grade products are safe for pets to lick.
The 'Carrot Natural Shampoo Bar' is certified EWG Green grade, so you can use it with confidence.

The color of the soap bar does not affect the dog's fur, so you don't have to worry.

Recommeded for the following pet owners:
I'm worried that my dog licking and consuming toxic soap water
Tired of needing to shampoo several times due to weak and diluted pet soap
Pet soap doesn't foam easily, so it's inconvenient to use
Those worried about the safety of the shampoo they are using for their pets and the chemicals in the products.

Those who don't want to dry out their pet's skin after a clean and thorough washing.
Pet owners who are looking for a product with good ingredients because their pet's skin is sensitive and fragile or simply because their pets deserve only the best products.
HOW TO USE
1. Insert the shampoo bars into the bath net. Insert your hand into the strap of the net. Then wet the net with water.
2. Bathe your pet's body with the foam created through the soap net.
3. Thoroughly rinse off all the foam then, dry your pet.

Easy to store. Simply hang the net and soap bars in a cool, dry place.
INGREDIENTS
Glycerin, purified water, coconut acid, sodium isethionate, 1,2-hexanediol, butylene glycol, hexylene glycol, xanthan gum, tetrasodium glutamate diacetate, annatto, maltodextrin

Key Ingredients
Carrot Extract, Centella Asiatica, Corn Starch, Sodium Cocoyl Cethionate, Sodium Cocoyl Apple Amino Acid

Created with a clean formula with lots of fruit and vegetables from South Korea's Pyeongchang, Gangwon province. You can wash your dog without worrying about any irritation.

Carrot : Helps revitalize and moisturize your skin.
Centella Asiatica : Soothes and helps regenerate the skin.
Coconut : A plant-based surfactant extracted from coconut to create a soft foam.
Apple : Anionic surfactants from apples aid in creating rich bubbles.
Korean gingko tree seeds
No more artificial scents and artificial pigments that are not good for dogs!
Uses extract from Korean gingko tree seeds for the red orange natural pigment.
Linen soap net
The soap net is made of 100% linen.
The material is breathable and can be dried and and easily stored. Durable, reusable and environmentally friendly.
Your payment information is processed securely. We do not store credit card details nor have access to your credit card information.
This website is encrypted. We take your security very seriously. All transactions powered by Shopify.
Rates are approximations. Exact rates will be provided at checkout.
Recommended
You might want to take a closer look.